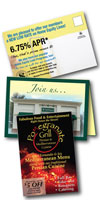 Need an economical way to get your message across? Check out our 4"x6" SuperSaver Postcard!
Postcards are printed on either 14pt. Glossy or Premium Uncoated Cover.
Postcards printed on 14pt. Glossy have an option for no UV (aqueous only) on the back for easier addressing
Postcards with B/W Back have no coating at all on the back.
Do not forget our mailing services! We will print, address and mail your postcards directly to your clients! Click on our Mailing Services page for more information.
We accept the following file formats ONLY: .ai, .eps, .jpg, .jpeg, .pdf, .png, .psd, .eps, .tif, .tiff. There will be a minimum $15 conversion fee to change your file to any of the above or to format the file for print. Please embed all images, fonts, and other linked objects into the file. Only one file per printed side and only one card on a file-no sheets, please!
Please see Preparing Files for layout criteria.