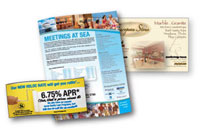 We are the home of the $.16 full color, thick, glossy flyer or sell sheet!
TO ORDER BROCHURES: please choose your size, paper and quantity in
FLYERS
then choose the corresponding fold in
FOLDING
. For an unfolded brochure, please just order from the FLYERS page.

WHEN WILL I GET MY ORDER?
Click to find out turnaround times for your order.
Flyers are available in several sizes and on several paper stocks including Recycled paper printed with soy-based ink!
If you need a poster sized flyer, visit our Posters page.
For a folded flyer, please order here and add folding by clicking on FOLDING
We accept the following file formats ONLY: .ai, .eps, .jpg, .jpeg, .pdf, .png, .psd, .eps, .tif, .tiff. There will be a minimum $15 conversion fee to change your file to any of the above or to format the file for print. Please embed all images, fonts, and other linked objects into the file. Only one file per printed side and only one card on a file-no sheets, please!
Please see Preparing Files for layout criteria.