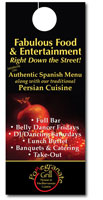 Doorhangers are available in two sizes: standard 4.5x11 and JUMBO 5.5x17.
Papers available are 100 lb. Gloss Book, 100 lb. Gloss Cover, 14 pt. UV Gloss Cover (C2S) or 14pt. Premium Matte.
B/W on back is available
For a unique doorhanger, try our Rip Business Card Doorhanger where your prospect can tear off your business card or promotion and easily put it in their wallet! Click HERE.
We accept the following file formats ONLY: .ai, .eps, .jpg, .jpeg, .pdf, .png, .psd, .eps, .tif, .tiff. There will be a minimum $15 conversion fee to change your file to any of the above or to format the file for print. Please embed all images, fonts, and other linked objects into the file. Only one file per printed side and only one card on a file-no sheets, please!
Please see Preparing Files for layout criteria.
WHEN WILL I GET MY ORDER?