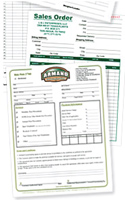 Carbonless (NCR) forms are a necessity in many service businesses and health care practices. Forms are printed and shipped in about 3 business days! Our forms are glued at the top in the standard white, yellow, pink format. We offer many varieties and sizes other than the standard forms shown here. Options include hole punching, numbering and odd sizes for your forms. Please call us for more information on your specific form.
Prices include printing only - if your file is not set up for print, please contact us to inquire about set up fees.
We accept the following file formats ONLY:
.ai, .eps, .jpg, .jpeg, .pdf, .png, .psd, .eps, .tif, .tiff.
There will be a minimum
$15 conversion fee
to change your file to any of the above or to format the file for print. Please embed all images, fonts, and other linked objects into the file.
Please see Preparing Files for layout criteria.