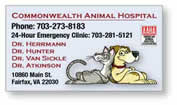 Magnetic Cards are available in two sizes: 2"x3.5" business card magnet or 4.25"x6" postcard magnet.
13ml vinyl magnet is printed Full Color with either a glossy or matte finish.
PLEASE CALL FOR ALL OPTIONS ON MAGNET CARDS.
Design services are also available to help you get the most out of your object.
We accept the following file formats ONLY: .ai, .eps, .jpg, .jpeg, .pdf, .png, .psd, .eps, .tif, .tiff. There will be a minimum $15 conversion fee to change your file to any of the above or to format the file for print. Please embed all images, fonts, and other linked objects into the file. Only one file per printed side and only one card on a file-no sheets, please!
Please see Preparing Files for layout criteria.