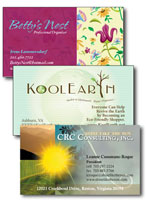 Order by 10am and we ship your cards in 24 hours and deliver Next Day Air **included in prices below**.
Orders must be approved for print by 11am to qualify for the 48-hour time frame.
48-Hour Business Cards are digitally printed on thick 14pt C2S Aqueous Coated stock.
Please note: a color shift may occur due to the digital process.
We accept the following file formats ONLY:
.ai, .eps, .jpg, .jpeg, .pdf, .png, .psd, .eps, .tif, .tiff.
There will be a minimum
$15 conversion fee
to change your file to any of the above or to format the file for print. Please embed all images, fonts, and other linked objects into the file. Only one file per printed side and only one card on a file-no sheets, please!
Please see Preparing Files for layout criteria.