Help Center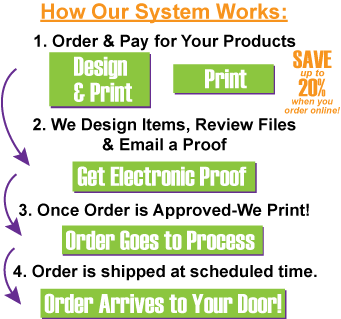 First time to our site? Let us help you with the process. If you have never ordered printing and design services online before, it may seem a bit daunting. Once you go through the process, you won't believe how quick and easy it is to order what you want and then have it show up at your door about 10 days later! And, you'll SAVE UP TO 20% by using our online system! Follow the guidelines below for easy ordering! Also, visit our FAQ for answers to our most commonly asked questions!

Printing
Design Services
Mailing Services
Ordering Printing
We will use business cards as an example.
1. Choose your Product
First, click on Business Cards either in either section shown below. The pricing section gives you a quick quote on any product and quantity, while the Print Products section is more step by step ordering.




-Next choose the type of paper that you would like.
-Then choose the color sides. You can have full color printed on the front, color on the front with B/W on the back, or full color on both sides of the card. If you choose a glossy stock, you may opt for a semigloss (aqueous) finish on the back so that the card may be written on easily.
-Next, choose the quantity of cards that you would lke. Our standard order is 1000, but you may order less.

At this point, the price for your item should appear. If this is what you wanted, click Add to Cart. If you would like to add design services, you may choose them below the pricing (see design help below).

2. Agent Sign In
If you are an existing customer, please sign in. If not, please register at this time by clicking on Register at the bottom of the screen.

3. Product Name
You will be prompted on the next screen to name your product. Please include the item in the name, such as Al BC for Al's Business Card. That will help us track the files later. Click Save.

4. Shopping Cart
On this screen, please review your order. You may change your selections by clicking Edit. If you are ordering multiples of the same product, such as 3 orders of 1000 business cards, click on Copy to add another order of those cards.
Don't forget to send us your files! Click Upload to attach your files to the order.

5. Upload
Click on browse to find the file on your hard drive. Once you have chosen all the files you wish to upload, click on Upload my files! and then Back to Shopping Cart to complete your order.
If you have a discount code, pleae enter it here, otherwise, click on Continue Shopping if you would like to add more products or Checkout if you are ready to checkout!

6. Billing Information
If you have not ordered with us before, please fill out the billing information form carefully as it is registered with the credit card that you will be using. Click Next.

7. Order Review
Double check your billing and shipping information. We do not ship to PO boxes! Also, please leave us any special notes or instructions here. Carefully input your credit card information. Click on the Agreement to Terms box (after you have reviewed them, of course) and click Checkout. Your order is complete! Be sure that you receive a confirmation at the end and an email receipt.

What happens next?
We will review your files and contact you if there are any problems. We will then send a low resolution electronic proof to the email address that you have provided. Once you reply with a "go for it" your order will go into production. Please see our turnaround times for the approximate delivery time of your order. Your products will be shipped to the address provided in the shipping information. Visit our FAQ for more answers.

What happens if something is wrong with my order?
Contact us immediately! If you receive your order and there is an error or question, be sure to contact us within 5 business days. Please review our Terms and Conditions for details on returns.



Ordering Design Services Online
Example: "I need my card business card designed."
No problem. We can handle most of this right on the site. We will use business cards as an example.

1. Design Services
Go to the Design services page and choose the product that you need designed. We do not offer online design services for every product, but we do design everything! Just call or email us of your do not see your product!





2. Make your selections
Once you choose the product, you will see that there are a few levels to choose from. Follow the instructions as to which level to choose. If you are not sure, a good rule of thumb is to choose the level that is in your budget. Still stumped? Email or call us!

3. Order the Product and Leave Instructions
Once you choose the level that you want, you will advance to the Product Order page. Here you will be able to choose papers, color and quantity for your product (see Ordering Printing above). Then confirm your design choice.

Below design choices, please fill in the design instructions for your item. If there is a small amount of information, please add it here. For a business card, this would be name, address and other contact information. If you there is a lot of text, such as the copy for a brochure or flyer, please save it on a Word document and upload it with your images on the upload screen.

4. Complete Order Process
Please follow the guidelines below to complete your order. Remember to Upload all necessary files on the upload page. If there is not enough room to upload all that you need us to have, please email or call us for our Online File Folder.
Need a Logo? Please contact us for logo design. View our logo gallery below: